I've been tackling on the idea of starting this thread without linking the Winter months and focusing moreso on the Autumn period. For now, this thread will primarily be geared towards the months of Sep-Nov and leaving out the "Winter Discussion" and/or Outlook at this point in time. In the months ahead, we may just include them at a later point in time for the sake of compartmentalization.
With that being said, there is much to discuss as there are conflicting signals being forecast among the models in terms of the ENSO (which plays a big role in long range forecasting). I'll just dive right in...
For instance, the CFSv2 just about a couple months ago was suggesting a La Nada to develop by late Summer into Autumn. However, that in turn trended towards a weak/mod over the last month or more of runs. But wait, up until the last week, it's back to a La Nada! What may be causing this erratic behavior???
Here is the most recent image of the subsurface SST anomalies across the equatorial PAC which have cooled back off significantly again. I'm trying to search for reasoning but I'll be honest, I don't have one at the moment. We'll just have to see how this blob of cooler waters interacts with the warm pool on top. Will it erode it??? Time will tell.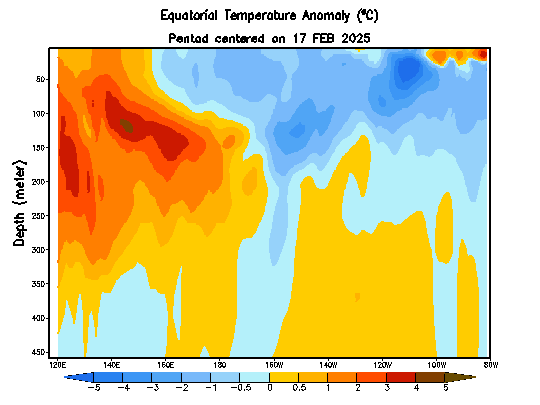 Below I have attached the CFSv2 monthly/seasonal ENSO 3.4 region recent runs...